This CLEARRAY®-XL Replacement Bulb is factory direct OEM part. Upgrade your Original ClearRay® Bulb to the ClearRay® XL!
DON't BE FOOLED BY OFF BRAND REPLACEMENTS! THIS IS AN OEM PART DIRECTLY FROM SUNDANCE®/JACUZZI®-THEY ONLY PRODUCE THIS ONE CLEARRAY® BULB!
CLICK HERE FOR JACUZZI HOT TUB CLEARRAY® TROUBLESHOOTING
CLICK HERE FOR SUNDANCE® SPAS CLEARRAY® TROUBLESHOOTING
Sundance® Spas / Jacuzzi® CLEARRAY® Replacement Bulb Formerly 6472-857 Now 6472-841
Sundance® Spa XL Replacement Bulb New CLEARRAY® XL designed by Sundance® Spas. 20% larger bulb New connection port Backwards compatible - works with older model Sundance® Spas. Original Sundance® Spa Parts.
After a year the bulb must be replaced. A message will appear on the LCD display when the time allotted has expired.
In order to clear the "blb" message a new UV bulb needs to be installed and the timer must be reset.
DO NOT TOUCH THE NEW UV BULB WITH YOUR BARE HAND.
Oil on your skin will cause hot spot on the UV bulb and shorten the life of your UV bulb.
Use the provided latex glove to handle the UV bulb.
Sundance® Spas / Jacuzzi® CLEARRAY® Water Purification System on all 2012 models as a factory installed feature*. After years of both external laboratory and in-field testing Sundance® has selected a system that makes water care a breeze, even reducing the amount of sanitizing chemicals needed**. The system treats water using exclusive UV-C light technology, which means no gas, chemical, or other by-product is added to the water or produced as a result. This proven technology has a strong track record of success in hygienic and clear water driven industries, including: hospitals, pharmaceuticals, bottling & beverage, industrial and municipal water treatment, and aquariums.
• Treats 99.9% of waterborne pathogens
• Factory installed* exclusive UV-C Technology
• Up-to 50% reduction in sanitizing chemical usage**
• Easy care and maintenance with annual bulb replacement
• No harmful odors or by-products produced
• Durable stainless steel and quartz components
How to replace CLEARRAY® Bulb
CLEARRAY® BULB REPLACEMENT AND QUARTZ TUBE MAINTENANCE
Important: It is MANDATORY that the UV bulb be replaced and the quartz tube be cleaned every 12 months to maintain optimum performance.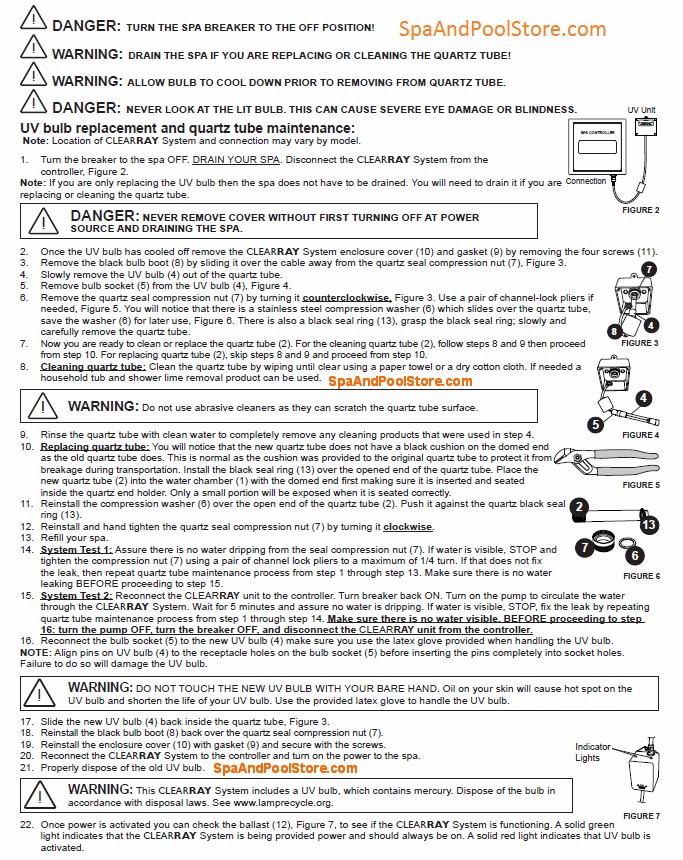 Spa covers, filter cartridges that are used or have been wet, spa equipment packs, heaters and any electrical items (including but not limited to: circuit boards, spa control panels, contactors, switches, sensors, speakers, transformers, pumps and motors) are a FINAL SALE. Manufacturer's warranty still applies and can be returned for warranty only. Maximum manufacturer's warranty on electronics is 6 months.